The GR1 was a Christmas present last year, 2012. As the number of day trips I make to factories increases, I was looking for a single backpack to carry clothes, samples, and a laptop into strange environments. I needed a backpack because of the walking, and a single bag because of the flights, cars, busses, and hassle of travel. Because these trips are usually only for a couple of days, I didn't need that much space. The last two years of repeated packing have made me a more economical traveler, and I started as a minimalist with regards to things.
I did about thirty hours of reading before putting the GR1 on my Christmas list. I already have a couple of really wonderful bags, including a custom-built R.E.Load Civilian messenger, a Tom Bihn ID briefcase, and a Timbuk2 Q backpack. For work I'd been using the Q, as carrying a laptop, samples, and notebook on one shoulder had gotten painful. Backpacks and dress clothes will never meld perfectly, but for frequent travel they're far superior. The Q has wonderful pockets and access points, and remains one of my favorite bags, but it was stretched to capacity with clothing, and simply couldn't handle a spare pair of shoes. In many ways the GR1 was simply a step up from the Q, with similar intentions and a larger carrying capacity.
As an operations and manufacturing person, the US-made nature of all of these bags is important. While the Q is imported, many of Timbuk2's bags are made in the US and the R.E.Load, Tom Bihn, and Goruck bags are entirely US-made. Manufacturing will only come back to the US if the end customers care, and I do. Money before words.
How then has the last year been, traveling with the GR1? How has it weathered Mexican factories, Chinese ferries, Japanese business meetings and dozens upon dozens of airports, sports fields, and shopping trips? Are the straps really better for their width, and the laptop slot better for the curved zipper? Is the ability to pack it flat really better than a top-loading style bag, and is the minimal aesthetic in terms of pockets really more customizable with additional smaller pockets or pack-it cubes? These were some of my questions, especially given the price, and some of the things I wanted to answer publicly, to help those doing similar research.
First, a sketch from months ago outlining some of my thoughts at the time: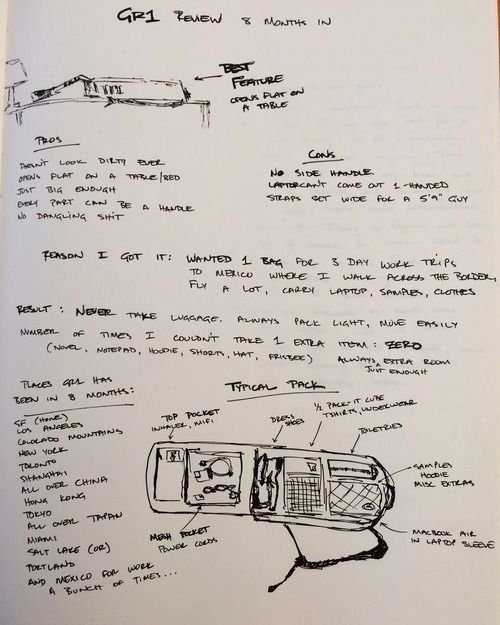 The notes from 8 months in hold true at 12, with a few changes.
Best parts of the GR1:
It rarely looks dirty, and cleans easily.
It's always big enough for one more thing, which is usually my hat or jacket when the sun comes out.
It's sturdy enough that I can pick it up from any reachable part, even fully loaded.
It stows cleanly because there are few dangling pieces to catch in doors and overhead bins, or on branches and other people, like in a crowded bus or subway.
Worst parts:
There's no side handle, which the Q has, so sometimes it's hard to get a grip on.
Because the zipper on the laptop slot wraps from side to top, it hampers me in two ways:

The zipper dangles down into my back, rather than off the side of the bag
It's very hard to take the laptop out without taking the bag off, a useful ability in airport security lines. The Q backpack laptop compartment is incredibly easy to access one handed while wearing the bag. The curved zipper design on the laptop/hydration pocket is the biggest drawback of the

GR1

, and something I'd really like to see changed. Maybe it's different with a hydration bladder, which I never use. It's hard for me to see how, given that the zipper would still hang down into the wearer's back even if the access isn't an issue.

The straps are set a little wide for a

5'9

″ guy, especially when first purchased, as they're very stiff to begin with. 12 months later this bothers me less than it did at 8 months.
What then are my thoughts on this bag, three hundred dollars and three hundred and sixty five days later? It's a very good backpack, built in the US for people who move and travel in much the same way I do. In the same year I've owned it, Jorve has also carried one every day, and Seth has purchased a GR2 and dragged it to Myanmar and back a few times, as well as around Asia and up through the New England coast to Maine. The Goruck bags are good bags. If the money makes sense, and the use that's outlined above, in other reviews, and on their site sounds like yours, then yes, the gear's good.