Between August 2005 and August 2008 I lived a strange life, working and living in Shanghai and spending several weeks a quarter in Los Angeles. On these brief sojourns across the Pacific I would see friends, do business, and shop. 
On one of these trips, which I know now to have been August 2007, I bought a pair of Adidas sneakers.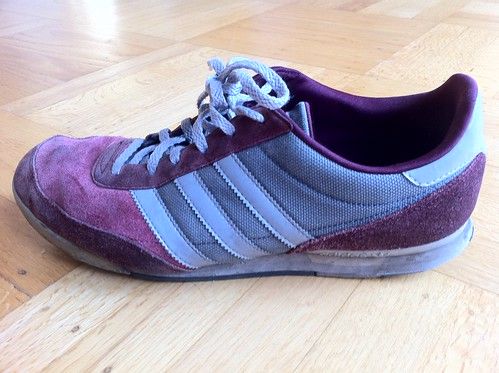 I've worn Sambas since about age 4, and was looking for a new pair, ducking in to the Adidas Store on the 3rd Street Promenade in Santa Monica. I bought these instead because they were the brightest thing on the shelf.
The above photo was taken today, 9/10/2011. They've held up remarkably well, despite the year of wearing them almost every day on the streets of Shanghai and factories of the greater eastern Chinese seaboard.
Astute readers have probably noticed the strange thing about these shoes. Unlike almost every pair of Adidas shoes in the world, they do not have a model name on the side, diagonally in line with the third stripe. 
They are, in fact, nameless. The name at the top of this post, Marun, comes from four hours of google searching for "adidas sneaker" and various combinations of colors, and the numbers on the tongue tag, which are:
Fty No. PYV 702001  
Art No. 096903 08/07 

9YSSDSBX00058 

Made in Vietnam
The Marun is no longer in production, which is a shame. Here's the Google Image search results for "Adidas Marun". Take a second and look them over. 
Here's the only for-sale versions I can find, at what might also be my favorite new shoe site ever. 
I post this because, after four hours of Google/shopping site scanning, during which I looked through thousands of images for a shoe that had no name, I wanted to unify the information. I also want to tell the world about my favorite pair of Adidas, which are dying, and of which I'd love another. 
This pair of shoes is also a good reminder that even in the age of mass-produced shoes, in the age of global business empires, things can and do disappear forever. The internet is a memory bank for our species, but only to the extent that we care to document.
Also, I'm a US 9.5. 
Any help?